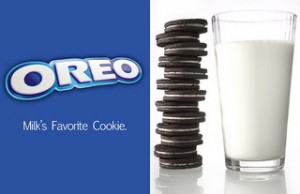 Creative Commons licensed image.
Rhetorical Analysis: The purpose of this advertisement is to get people to purchase Oreo cookies and milk as well and the audience would be people who love or like cookies and milk together. I know the audience is cookie and milk lovers because the milk is positioned right beside the cookies (hardly any space in between the two items). The intended audience in this advertisement is most likely young children because most children eat cookies and milk together. This image is promoting the viewer to try milk's favorite cookie which is Oreo's.
Design Element Analysis: This advertisement is advertising Oreo cookies and therefore the emphasis is on the word Oreo. Also, if you look at the blue around the Oreo Milk's Favorite Cookie it almost looks like the cookies and milk are pushed back slightly to draw the audience's attention to the Oreo logo (contrast). The word Oreo seems to be pointing to the cookies and milk and the way it is positioned tells me that cookies and milk may be slightly pushed back in this image (flow). The background which is showing contrast does work rhetorically with the image because since the background on one side is blue and the other white the blue side (text) seems to be pushed out more and therefore showing the viewer what the purpose of the ad is.