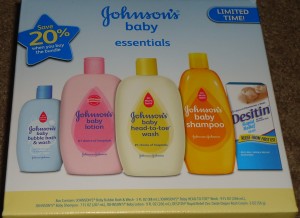 Photo taken by: Dewanta Smith
Rhetorical Analysis: The audience for this advertisement is parents or people who know someone        with a baby that can use this product. The purpose of this advertisement is to sell this product in bundles (the shampoo, body wash, body lotion and diaper rash cream) so the customer will get more. I know the purpose and the audience because of the title on top which is Johnson's baby essentials (purpose) and the mother on the diaper rash cream is holding the baby closely (audience). The intended audience is mothers because of the mother holding the baby on the diaper rash cream. The image is prompting the reader to buy these baby essentials products in a bundle because you get more for your money and buy them now because it's only available for a limited time.
Design Element Analysis: The image is showing repetition (bottles) and the color blue. This image also shows balance and alignment because three big bottles are in between the two smaller items and the smaller items are similar in color. Also, if you look left to right it seems like if a person was to buy these products the end result will be like the baby on the diaper rash cream (baby sleeping peacefully). Another thing is that the lightest bottle is in the center which seems to be pointing to Johnson's baby essentials.